Quiet Conversation: 64 Restaurants Found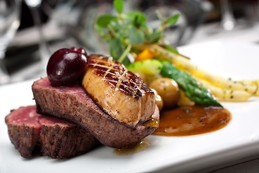 Regally reigning atop the Palms Casino Resort, Alizé is one of Chef André Rochat's jewels among his gemmed trio of French restaurants. Rochat, who introduced fine dining to Las Vegas 20 years ago with his original André's French Restaurant, presides creatively at Alizé. Mark Purdy, Alizé's Chef de Cuisine, executes the restaurant's delectable dishes of fish, meat, and poultry that dazzle and delight through flawless execution. Alizé's astounding wine list of 1,800 wines would appeal to discriminating wine connoisseurs. Located on Flamingo Boulevard, one mile north of the Las Vegas strip from Caesar's Palace and the Bellagio Hotel, Alize is one restaurant not to be missed.
Address: 3355 South Las Vegas Blvd, Las Vegas, NV 89109 (
Map
)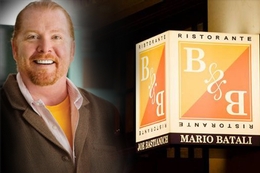 Chef Mario Batali and winemaker Joe Bastianich have brought straightforward, rustic Italian cuisine to the heart of the Las Vegas Strip with B&B Ristorante. Located in the the Venetian, this authentic Italian restaurant is the first of several successful establishments that this renowned team of restaurateurs have opened in Las Vegas. The food here echoes the soulful cooking of Italian mothers while incorporating a distinct modern flair, and the restaurant's dark wood beams and Italian marble bar elude casual elegance. Try the Grilled Octopus with 'Fagioli Marinati' and Spicy Limoncello Vinaigrette appetizer to experience a perfectly tender taste of the ocean, or sample the Warm Lamb's Tongue with Chanterelles and a 3-Minute Egg. Diners will surely find the Primi course to be very satisfying with decadent options like the Bone Marrow Ravioli and Spaghettini served with a One-Pound Lobster. Secondi courses are just as tempting. Choices include the Veal Chop, Whole Grilled Branzino Fish, and a Grilled Ribeye for Two with roasted potatoes and Aceto Manodori; this is a great dish to enjoy sharing on a romantic date. Sample a glass of wine or two from B&B's impressive list of over 1,000 wines from nearly every region in Italy. B&B Ristorante makes it easy for anyone to experience the charming cuisine of Italy during a visit to Las Vegas.
Address: 3950 Las Vegas Blvd., Las Vegas, NV 89119 (
Map
)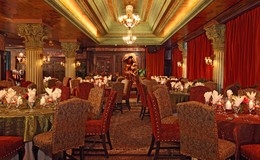 Have you ever wondered what's on the roof of Mandalay Bay, and why people crowd outside in the summer time? Or have you pondered where all the beautifully dressed ultra chic people emerge from en masse, descending upon the House of Blues? Welcome to the Foundation Room. Originally a 'members only' secret, accessible only via a private elevator in Mandalay Bay, the Foundation Room began last summer opening up to the public and is now open every night of the week. Distinguished, with tasteful vintage décor, the food mirrors the appointments inside, combining Asian and Indian influences with European flair and some luxurious versions of American comfort classics.
Address: 2000 Las Vegas Blvd South, Las Vegas, NV 89104 (
Map
)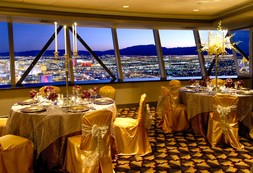 The Top of the World is located in the Stratosphere Casino, offering a one-of-a-kind bird's eye view of Las Vegas. Perched 844 feet above the city, Top of the World literally revolves in place, rotating a full 360 degrees every 80 minutes. And while the spectacular sights are enough to get guests in the door, the restaurant's inspired menu of re-imagined classics keeps the dining room full. Executive Chef Jeff Giffen oversees menus constructed around fresh seafood, prime-cut steaks, and decadent specialties. With tasting menu options and private dining accommodations, Top of the World serves up a generous helping of ambiance with every meal.
Address: 3770 Las Vegas Blvd South, Las Vegas, NV 89109 (
Map
)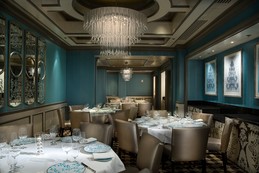 Having accomplished being the most honored and awarded restaurant in Las Vegas is no small feat. But such are the accolades given to Andre's inside the Monte Carlo Resort Hotel—the AAA Four-Diamond home of contemporary French cuisine inspired by renowned Celebrity Chef André Rochat. Old World charm is married with contemporary sophistication in the Andre's multiple dining and lounge spaces, where lavish fabrics and intricate design details complement a menu that is similarly opulent. Savor the flavorful results of Chef Rochat's personal touch in the main dining room that showcases the alluring juxtaposition of "French Blue" and charcoal grey tones, or take a seat in the sleek lounge with a choice cigar and cognac pairing. At Andre's, your meal becomes an evening event.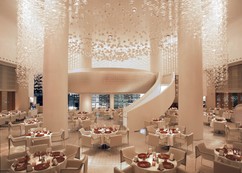 Internationally acclaimed Chef Alain Ducasse opened his first Las Vegas venture, Mix, in grand style in 2004, delivering not just a restaurant but an entire experience. Situated on the 64th floor of THEhotel, Mix offers unparalleled views that extend from the Strip to the mountainous horizon. A dazzling white monochrome dining room punctuated with vibrant red accents provides a clean backdrop for the 15,000-piece "Champagne bubble" chandelier to make its mesmerizing impression. The highly seasonal kitchen constructs dishes that meld international ingredients with an incomparable French flair. Those interested in toasting to their evening with a glass of wine may choose from 1200 bottles stored in a two-story unit that forms the dining room's south wall. To top the evening off right, many guests make their way to the Mix lounge, where more glamorous revelry is to be had.
Address: 3663 Las Vegas Blvd. South, Las Vegas, NV 89109 (
Map
)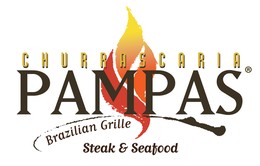 Enlivened with centuries' worth of tradition and technique, Pampas Churrascaria breathes new life into classic Brazilian barbeque inside the Miracle Mile Shops at Planet Hollywood Casino Resort. The contemporary styled dining room, adorned in earth tones and subtly appointed accent pieces, encourages guests to enjoy a communal dining experience anchored in festive fare and generous portions. The variety and quality of meats to choose from is staggering, such as Cordeiro (Leg of Lamb), Picanha Nobre (Top Sirloin) or Frango (Chicken breasts wrapped in bacon), presented and carved table side. Laden skewers of plump cuts are roasted just as they would have been hundreds of years ago, and award diners a timeless sense of satisfaction. The buffet includes salads, breads and pastas totaling over 50 hot and cold items to choose from. It is open from 8 a.m. to 10:30 p.m. every day and while meats take center stage, vegetarian and seafood options are on the menu. Bring your appetite and experience the carnivorous service as you get an original Brazilian experience.
Address: 3500 Las Vegas Blvd. Suite T30, Las Vegas, NV 89109 (
Map
)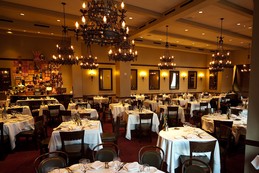 Located inside the Caesar's Palace Forum Shops, Il Mulino offers excellent northern Italian dishes paired with exquisite wines and exceptional service. This outpost of the ever-popular New York-based ristorante is favored by both visitors and locals alike. Their petite selection of hors d'oeuvres is rightfully famous as are their daily specials and aromatic menu options. Similarly, the level of service is unmatched as the waiters gracefully attend to their diners after the completion of each savored course. Il Mulino also serves traditional Italian desserts that are among the very best in Las Vegas, so get your taste of Italy today.
Hakkasan, the world renowned, international destination for fine Chinese cuisine has now taken up residence on the Las Vegas Strip within the MGM Grand Hotel and Casino. Under the direction of Michelin-starred Chef Ho Chee Boon, the kitchen produces delicious dim sum and wok fired dishes that encompass the full spectrum of ingredients from vegetable and tofu creations to fresh fish, seafood, poultry, pork, beef, lamb and even venison. In addition, diners will find a vast selection of hand-made cocktails and an impeccable sake and wine list showcasing a broad range of varietals from around the world. In-short, there is always a drink to complement your meal, no matter what your preferences may be. To complete the experience, Hakkasan provides an elegant, relaxing ambiance from the cool shades of blue showering the entrance of the restaurant to the ambient sounds, scents and lighting that transport diners to a place far away from the real world. The main bar provides a secluded area for casual dining and samplings of creative libations with seating for up to seventeen guests offered on a first come first served basis, and latticed woodwork, known as the "Cage" generates a feeling of intimacy throughout the main dining room, located on the first level. The second level houses an elaborate private dining space which overlooks the main floor and features a private lounge area, available for your guests to relax after the meal. Essentially, Hakkasan provides the perfect accommodations for gatherings of all sorts. Whether you are in search of a romantic experience for two, a casual gathering with friends, or a large private event, the expert team of hospitality professionals and the unique, relaxing environment are sure to meet and surpass every expectation. Come discover a new-age take on Chinese cuisine.
Address: 3645 Las Vegas Blvd. South, Las Vegas, NV 89109 (
Map
)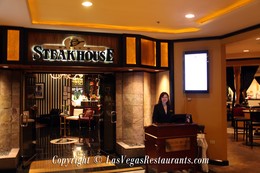 Housed in the Steak House at Bally's Resort and Casio is one of the most opulent buffets Las Vegas has to offer. The décor harkens back to old Vegas, with polished marble floors, a crystal chandelier, striped wallpaper, and white linen-covered tables. Dishes such as lobster, crab legs, caviar, and filet mignon are readily available at the buffet, as are a high end sushi bar, a dessert station featuring gold leafed confections, and a carving station with rack of lamb and prime rib. But these are only the tip of the buffet iceberg. Servers dressed in black tie, formal attire serve Perrier-Jouët Champagne, mimosas, and Bloody Marys to every patron's content. Only available on Sundays, from 9:30 a.m. through 2:30 p.m. The Sterling Brunch costs $85.00 per person. The Sterling Brunch is available by reservation only, so book a table in advance!