Quiet Conversation: 64 Restaurants Found
Address: 3930 Las Vegas Blvd. South, Las Vegas, NV 89119 (
Map
)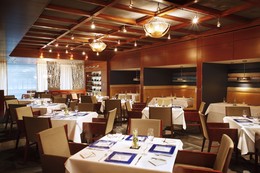 Celebrity Chef Rick Moonen has truly out-done himself with RM Seafood, his chic upscale restaurant located just inside the luxurious Mandalay Bay Hotel. Renowned for his passionate views on sustainable seafood, Chef Moonen creates a dining experience which incorporates a vast array of flavor combinations, designed to exemplify the natural qualities of fresh ingredients. Along with plentiful offerings from the sea, the menu features high quality Wagyu beef, lamb, fresh salads and several more unique items such as the Pan Roasted Rabbit or the Duo of Foie Gras. To maintain an air of elegance, diners are catered to by a full team of service professionals including waiters, food runners and bussers, ensuring that no detail goes overlooked during a meal. For those seeking a true fine dining experience and a fresh taste of Chef Rick Moonen's exquisite culinary creations, look no further than RM Seafood inside Mandalay Place at Mandalay Bay.
Address: 400 East Sahara Avenue, Las Vegas, NV 89104 (
Map
)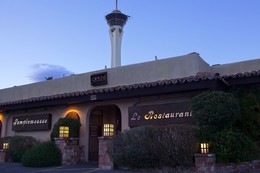 Pamplemousse brings authentic, Provencal French flair to the Las Vegas area, just a few blocks east of the Strip. In a quaint and cozy pink stucco building, this is the perfect location for a romantic dinner or intimate conversation amidst the dim candlelight and classical music. Open for dinner, every meal begins with a basket of warm bread and crudités (fresh, raw vegetables) like cabbage, zucchini, cherry tomatoes, broccoli, and cauliflower. Entrée selections include Escargots Bourguignon, Foie Gras "Au Torchon" and a plethora of other traditional French delicacies. An assortment of international wine is also available, from Chile to France, with pricing to meet the needs of every budget. First opened in 1976, Pamplemousse has maintained its status as a local favorite for nearly forty years. The next time you're looking for a restaurant with refined elegance and unparalleled service in the Las Vegas area, Pamplemousse on East Sahara Avenue is just the ticket.
Address: 3355 South Las Vegas Blvd, Las Vegas, NV 89109 (
Map
)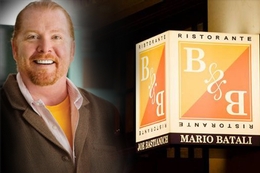 Chef Mario Batali and winemaker Joe Bastianich have brought straightforward, rustic Italian cuisine to the heart of the Las Vegas Strip with B&B Ristorante. Located in the the Venetian, this authentic Italian restaurant is the first of several successful establishments that this renowned team of restaurateurs have opened in Las Vegas. The food here echoes the soulful cooking of Italian mothers while incorporating a distinct modern flair, and the restaurant's dark wood beams and Italian marble bar elude casual elegance. Try the Grilled Octopus with 'Fagioli Marinati' and Spicy Limoncello Vinaigrette appetizer to experience a perfectly tender taste of the ocean, or sample the Warm Lamb's Tongue with Chanterelles and a 3-Minute Egg. Diners will surely find the Primi course to be very satisfying with decadent options like the Bone Marrow Ravioli and Spaghettini served with a One-Pound Lobster. Secondi courses are just as tempting. Choices include the Veal Chop, Whole Grilled Branzino Fish, and a Grilled Ribeye for Two with roasted potatoes and Aceto Manodori; this is a great dish to enjoy sharing on a romantic date. Sample a glass of wine or two from B&B's impressive list of over 1,000 wines from nearly every region in Italy. B&B Ristorante makes it easy for anyone to experience the charming cuisine of Italy during a visit to Las Vegas.
Address: 3500 Las Vegas Blvd. Suite T30, Las Vegas, NV 89109 (
Map
)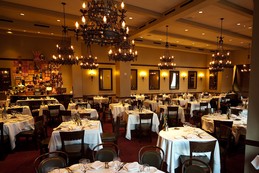 Located inside the Caesar's Palace Forum Shops, Il Mulino offers excellent northern Italian dishes paired with exquisite wines and exceptional service. This outpost of the ever-popular New York-based ristorante is favored by both visitors and locals alike. Their petite selection of hors d'oeuvres is rightfully famous as are their daily specials and aromatic menu options. Similarly, the level of service is unmatched as the waiters gracefully attend to their diners after the completion of each savored course. Il Mulino also serves traditional Italian desserts that are among the very best in Las Vegas, so get your taste of Italy today.
Address: 3950 Las Vegas Blvd., Las Vegas, NV 89119 (
Map
)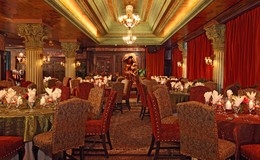 Have you ever wondered what's on the roof of Mandalay Bay, and why people crowd outside in the summer time? Or have you pondered where all the beautifully dressed ultra chic people emerge from en masse, descending upon the House of Blues? Welcome to the Foundation Room. Originally a 'members only' secret, accessible only via a private elevator in Mandalay Bay, the Foundation Room began last summer opening up to the public and is now open every night of the week. Distinguished, with tasteful vintage décor, the food mirrors the appointments inside, combining Asian and Indian influences with European flair and some luxurious versions of American comfort classics.
Address: 3500 Las Vegas Boulevard South, Las Vegas, NV 89109 (
Map
)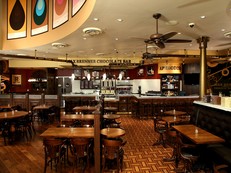 "Chocolate by the Bald Man". A bold and enticing statement if ever there was one. In a world increasingly obsessed with weight and health, two Israeli chocolatiers are boldly bucking trend. Named after its two founders, Max Fichtman and Oded Brenner, Max Brenner. With equal parts rich decadence and fanciful whimsy, this chocolate chain is melting the hearts of both young and old. But it isn't all sweets and lavish desserts, pop in to try Molly's White Corn Croquettes, with house seasoned white corn & machego cheese balls dusted in panko bread crumbs & lightly fried. Or perhaps the Sloppy Max is more your style, served with bbq pulled pork & creamy slaw on soft brioche style bun (with waffle fries on the side, dusted with chili and cocoa powder!). Of course, when the word 'chocolate' is the first word in your mission statement, you'd better believe you can get a healthy dose of that at Max Brenner!
Address: 2000 Las Vegas Blvd South, Las Vegas, NV 89104 (
Map
)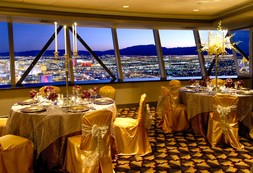 The Top of the World is located in the Stratosphere Casino, offering a one-of-a-kind bird's eye view of Las Vegas. Perched 844 feet above the city, Top of the World literally revolves in place, rotating a full 360 degrees every 80 minutes. And while the spectacular sights are enough to get guests in the door, the restaurant's inspired menu of re-imagined classics keeps the dining room full. Executive Chef Jeff Giffen oversees menus constructed around fresh seafood, prime-cut steaks, and decadent specialties. With tasting menu options and private dining accommodations, Top of the World serves up a generous helping of ambiance with every meal.
Address: 3770 Las Vegas Blvd South, Las Vegas, NV 89109 (
Map
)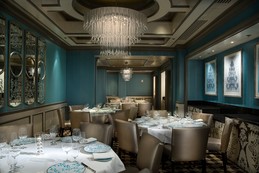 Having accomplished being the most honored and awarded restaurant in Las Vegas is no small feat. But such are the accolades given to Andre's inside the Monte Carlo Resort Hotel—the AAA Four-Diamond home of contemporary French cuisine inspired by renowned Celebrity Chef André Rochat. Old World charm is married with contemporary sophistication in the Andre's multiple dining and lounge spaces, where lavish fabrics and intricate design details complement a menu that is similarly opulent. Savor the flavorful results of Chef Rochat's personal touch in the main dining room that showcases the alluring juxtaposition of "French Blue" and charcoal grey tones, or take a seat in the sleek lounge with a choice cigar and cognac pairing. At Andre's, your meal becomes an evening event.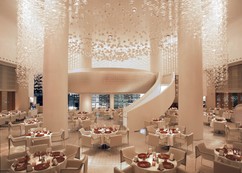 Internationally acclaimed Chef Alain Ducasse opened his first Las Vegas venture, Mix, in grand style in 2004, delivering not just a restaurant but an entire experience. Situated on the 64th floor of THEhotel, Mix offers unparalleled views that extend from the Strip to the mountainous horizon. A dazzling white monochrome dining room punctuated with vibrant red accents provides a clean backdrop for the 15,000-piece "Champagne bubble" chandelier to make its mesmerizing impression. The highly seasonal kitchen constructs dishes that meld international ingredients with an incomparable French flair. Those interested in toasting to their evening with a glass of wine may choose from 1200 bottles stored in a two-story unit that forms the dining room's south wall. To top the evening off right, many guests make their way to the Mix lounge, where more glamorous revelry is to be had.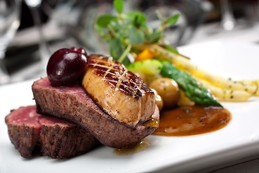 Regally reigning atop the Palms Casino Resort, Alizé is one of Chef André Rochat's jewels among his gemmed trio of French restaurants. Rochat, who introduced fine dining to Las Vegas 20 years ago with his original André's French Restaurant, presides creatively at Alizé. Mark Purdy, Alizé's Chef de Cuisine, executes the restaurant's delectable dishes of fish, meat, and poultry that dazzle and delight through flawless execution. Alizé's astounding wine list of 1,800 wines would appeal to discriminating wine connoisseurs. Located on Flamingo Boulevard, one mile north of the Las Vegas strip from Caesar's Palace and the Bellagio Hotel, Alize is one restaurant not to be missed.