Luciano Pellegrini
Executive Chef
---
---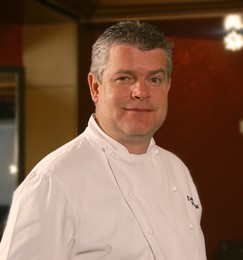 Luciano Pellegrini, Executive Chef and partner at Valentino inside the Venetian, has a long history of culinary experience. He first began cooking with his mother at their home in Bergamo, Italy. He loved to learn new things while helping his mother prepare meals in the kitchen.
He spent the majority of his teenage years working at different restaurants in the area while attending San Pellegrino, one of Italy's most well-known hotel schools. After graduating, he acquired a steady position at the restaurant, Locanda dell'Angelo. Here he experienced Italian dining at its apex, and he worked until the age of seventeen.
Putting his culinary dreams on hold, he enlisted and fulfilled his required year of military service. After his return from the military at age eighteen, Pellegrini truly began his career in the world of food. He worked in the kitchens at several of Italy's finest restaurants, learning techniques and developing distinct recipes.
Then, in 1985, Pellegrini made the decision to bring his talent to the United States. Restaurateur Piero Selvaggio had made a name for himself by introducing authentic Italian fare to California, and it was he who extended an invitation for Pellegrini to come work for him.
The eager young chef quickly progressed. He began at Primi, one of Selvaggio's restaurants, with a position as a pasta chef. He gained valuable leadership skills in the kitchen here and by 1991 he was promoted to Executive Chef at Posto in the San Fernando Valley. Here he proceeded to excel, providing "the kind of rustic main courses you might find in the Italian countryside" as stated by the renowned Los Angeles Times restaurant critic, S. Irene Vibila.
With his new found success, Pellegrini wished to return to Italy to learn more. He picked up on new techniques, one of which was grilling on the "fogolar". This is a very traditional method of cooking on a wood-burning hearth. To further add to his skill set, Pellegrini spent a lot of time studying Bruno Libralon. Known in Italy as "King of Fish", Libralon passed along a great deal of knowledge to Pellegrini. In a similar fashion, Pellegrini studied and worked with several other creative and renowned Italian chefs during his travels, such as Gianfranco Vissani, Fulvio Pierangelini, Paola DiMauro and Nadia Santini. He would not leave Italy until he had something to show for it, and after his return to California, it was quite apparent that his efforts had paid off. Pellegrini had taken his culinary skill to a new level, and the James Beard Foundation listed him among the top ten chefs in Los Angeles. It was a position that he upheld for six years.
In 1999, Pellegrini took yet another career-changing step. He left Los Angeles to become Executive Chef and partner of Valentino Las Vegas, the sister restaurant to Selvaggio's Santa Monica establishment.
Since the move to Las Vegas, Pellegrini's successes have abounded. Valentino has been awarded numerous accolades, including six Las Vegas Life Epicurean Awards and the Distinguished Restaurants of North America Award of Excellence. Pellegrini has perfected the art of melding traditional, authentic Italian cuisine with the modern flare and excitement of Las Vegas.
However, Pellegrini's most notable achievement so far is one of the highest honors a chef can receive: the Best Chef in the Southwest Award given to him by the James Beard Foundation in 2004. After that, he played a key role as a host chef for the James Beard Foundation's Taste America Las Vegas in 2008, the first ever multi-day event.
Even now, Pellegrini takes trips to Italy to appear as a guest chef for several esteemed culinary gatherings, and he continues to provide some of the best traditional Italian food that the Las Vegas strip has to offer. He strives to maintain a certain connection with his Italian heritage that he exhibits in his cooking, and it is the noticeable authenticity of his food that keeps diners coming back again and again.
It is safe to say that this man has a true passion for the culinary arts, and just as when he was a young boy, he enjoys preparing meals in his own kitchen where he has freedom to experiment. He has made quite a journey since his times cooking with his mother, and along the way, he has managed to become a decorated culinary professional.
Executive Chef Luciano Pellegrini is an example to others of how dedication and passion in the kitchen can lead to a long career of culinary success and acclaim. Come visit Valentino inside the Venetian Resort and Casino, and experience the taste of genuine Italian cuisine as presented by this well-versed chef.
---