Tim Radigan
Executive Chef
---
---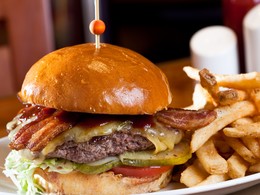 Unlike other chefs, Executive Chef Tim Radigan's interest in cooking began "more at work than at home." His culinary career itself came about mostly as the result of happenstance. When he was 15 years old, his father brought him to the local country club in his home state of New Jersey to apply for a lifeguard job only to discover that it had already been filled. Instead, Chef Radigan took a position as a dishwasher at the restaurant and, after having the opportunity to fill in on the line, his "passion started to grow." Buoyed by his newfound interest and talent in cooking, he enrolled at the Culinary Institute of America and began his profession in earnest.
While this formal training gave him the foundation needed for success in the field of professional cooking, Chef Radigan attributes most of his culinary expertise to the chefs he has worked with over the years. Working under Mike Salter, Paul Petersen, and Sven Mede at MGM's Nobhill, Radigan confesses that he "learned more from them than I did from culinary school." The cooking tenet that made the deepest impression on him, and was stressed by each of his mentors, was the supreme importance of fresh ingredients. For Chef Radigan, if you "make sure everything is fresh, you can't go wrong." This concentration on freshness has greatly influenced his Studio Café menu, where dishes are dictated by the seasons and the availability of high quality ingredients.
Chef Radigan has brought the talents he acquired from his mentors to MGM's Studio Café, infusing the classic diner menu with novel and elegant flavors. Before he took the position as executive chef, "the restaurant was on autopilot. So many different things needed to be streamlined." He redesigned the menu with an "attention to detail," transforming burgers with flavorful spreads like tomato jam and adding boursin cheese to a traditional patty melt. Additionally, a new section of Blue Plate Specials features a regular rotation of gourmet dishes like Red Wine Braised Short Rib and Cajun Pasta and elevates Studio Café to new heights of culinary sophistication. These changes have not gone unnoticed: most customers have been highly receptive, expressing appreciation for how "the freshness shines through."
With this menu and renovation of Studio Café, Chef Radigan seeks to introduce the unexpected into the familiar American diner concept. He seeks to generate "surprise" with his dishes, to have diners "order the Short Rib or a sandwich" and be astounded when it arrives and is "eight to ten inches tall. I want them to leave satisfied and surprised." In doing so, Chef Radigan not only hopes to confound diners' expectations of Studio Café, but to completely transform them, delivering dishes of a quality and a character that "people don't expect. I want to change that [expectation] and have them talking about it as they leave." His hard work and careful planning has paid off: Studio Café's menu proves to be an expert blend of familiar American comfort food and gourmet improvisations that is, above all else, impressively satisfying.
---