Heath Cicerelli
Executive Chef
---
---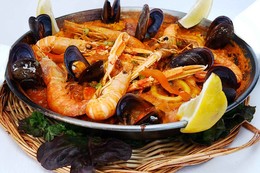 Emeril's New Orleans Fish House has seen some exciting changes of late. Former Chef Jean Paul Labadie recently moved to the Venetian to head up Emeril's new venture, Table 10. Chef Heath Cicerelli, who has been part of the Emeril's organization for eight years, now spearheads the day-to-day demands of Emeril's Fish House. He attended school at Colorado State University, completed an engineering degree, then came to Las Vegas in 2000 for some fun and to try something different.
Cicerelli began at Delmonico Steakhouse, starting as a runner. Without a formal background, he found it was the best place to learn from the ground up. He moved up to sous chef, and on up the ladder, and with the departure of Chef Labadie, Cicerelli naturally migrated into the spot of Chef de Cuisine at Emeril's New Orleans Fish House.
Q. What's changed since you took the helm here at Emeril's?
Most of all, a couple of the signature menu items. For example, our salmon dish is now a barbecue salmon and andouille potato hash with crystallized fried onion crust, with Emeril's signature Worcestershire sauce. We've also changed the crab cakes, and made them lighter.
Q. Tell me about the favorite entrée.
Our biggest selling entrée is the pecan crusted redfish – it's a very New Orleans dish, and coated in bread crumbs and pecans but still very light. My favorite is probably the pork chop with candied sweet potatoes, green mole, and tamarind glaze. It's a little sweet and has a great southwest flavor.
Q. How often are menu items changed?
All the time. We change an appetizer or two, or a salad or two. We make seasonal changes based upon what's the most fresh and available.
Q. I was really wowed by the service when I had dinner. Tell me how you do that consistently.
Locals matter to us. We love repeats. It's the heart of our business. We can only maintain that with consistent excellence.
Q. How do you create new dishes? Have any of them not worked very well?
We create lots of new dishes. The opening sous chefs begin cooking when they arrive. We have 4-5 new menus weekly, and some dishes just don't work. But failure's our best teacher.
Q. What would you suggest that people not be reluctant to try?
The bronzini, or the chef's table. The chef's table is when we make dishes on the fly for the party, based upon their likes and dislikes, and it's a great way to try new things. Some people might say 'I don't like fish,' and we'll ask if we can prepare one fish dish to see what they think, and they like it and it completely changes how they feel about fish.
---