Chris Bulen
Chef de Cuisine
---
---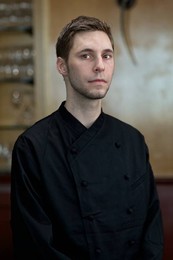 Chris Bulen, Chef de Cuisine at Andre's inside the Monte Carlo Resort and Casino, plays an active role in creating some of the finest French cuisine that the Las Vegas Strip has to offer. He meticulously meets Chef and Owner Andre Rochat's demand for excellence while relishing the opportunity to offer his own creative flare in the kitchen. He has a true love for his profession and has become a master of the trade.
Like many talented chefs, Bulen rose from humble beginnings. In fact, his first introduction into the culinary world was as a dishwasher for a private country club in his hometown of Hartland, Wisconsin. While his father was a line cook, Bulen showed little inclination towards the culinary arts at first. It was not until he began helping with the preparation of soups and salads for the Sunday brunch that his concerns were turned towards bettering his culinary skills. Upon realizing his affection for fine food, Bulen began to focus on learning different techniques and gaining as much knowledge as he could about the world of culinary professionals.
He spent six years at the country club, and during his time there he acquired the experience needed to take his future to the next level and attend culinary school. He chose to study at Le Cordon Blue North American Culinary School in Minneapolis, Minnesota. Eager to learn, Bulen immersed himself in the instruction and training that he was provided and excelled in classic techniques.
Upon finishing his schooling, he knew that he did not wish to remain in the Midwest. So, with high hopes, he decided to head West, with Las Vegas as his goal. In Bulen's eyes, Vegas was "the city that had it all" and his determination to be successful was matched by his courage to take a great leap of faith.
Absolutely sure that Las Vegas was the place to stake his claim in cooking, he and his girlfriend set out for Nevada without a single job offering on the table. Once settled in, and with a clear objective, Chris quickly landed an interview at Alize, Chef Andre Rochat's five star French restaurant at the top of the Palms Casino Resort. Shortly thereafter, he was hired as part of the kitchen crew.
Being no stranger to working his way up the culinary ranks, Bulen wasted no time. Over a four year period, he took every opportunity to expand his knowledge and successfully mastered each station within the kitchen of Alize. He was fast becoming a true protégé, and much to the satisfaction of Rochat, Bulen showed a genuine devotion to his profession. He also proved to have a sincere desire to master everything that he could by following in the footsteps of Rochat, his decorated role model. Under the tutelage of such a renowned chef, there was no doubt that the eager young man would go far.
As it turned out, the very icon responsible for molding this talented up and comer was also the man to provide his first big break as a chef. After extensive renovations, Rochat re-opened Andre's, his original Las Vegas restaurant, inside the Monte Carlo Resort and Casino in 2008. Bulen sought after the position of Sous Chef for the newly opened venue. After his note-worthy performance and dedication to meeting Rochat's high standards at Alize, he was chosen for the job and has since taken his career to new heights.
His most cherished achievement thus far has been his participation in the annual Jean-Louis Palladin dinners. Jean-Louis Palladin was a celebrated French chef who, before his death, changed the way food was plated, prepared and served. Now, in an effort to keep the memory of his achievements alive, Andre Rochat hosts the annual Palladin dinners to raise scholarships that support new chefs. At this distinguished event, Bulen was able to meet and work alongside some of the culinary world's most esteemed new talent in an effort to produce a single, monumental meal from the numerous recipes in Jean-Louis' bestselling cookbook, Cooking With the Seasons.
It is hard to imagine packing up your things and relocating to a distant place with nothing but a dream. Yet, Chris Bulen, Chef de Cuisine at the acclaimed Andre's inside the Monte Carlo, is living proof that with hard work, dedication and a the right role model, small town dreams can become Las Vegas reality. He took a gamble, putting everything on the line, and he hit the jackpot.
---
---